Core Values
Our curriculum is underpinned by our core values of being:
Bold… committed to academic excellence and a 'powerful knowledge' in all topics in the PSHE and RSE curriculum pupils who question and develop skills in analysing and expressing opinions
Ambitious…pupils who are guided to articulate their pathways and make informed decision on their next steps at each key stage
Collaborative…learning involves working together and Personal Development learning advocates mutual respect, good attitudes and listening and acting on others' opinions and feedback
Kind…. Respecting each other and being able to peer and self-evaluate and celebrate success
Intent
What is the King Edward VI Balaam Wood Academy aiming to achieve through Personal Development curriculum? What aspirations have we for our pupils?
The Personal Development curriculum is broad and balanced it aims to equip pupils with essential skills for life, where children are enabled to become successful learners, develop their full potential, it will promote an inclusive environment that meets the needs of all pupils, irrespective of age, disability, gender reassignment, race, religion or belief, sex or sexual orientation to achieve the highest educational standards they can. We have a passionate commitment to learning and recognition of the uniqueness of individual learners. The curriculum intends to develop the whole child through carefully planned discrete lessons, assemblies, form time sessions and enrichment. To promote character and the personal, social, physical, spiritual, moral, and cultural development of our pupils and prepare them for the opportunities, responsibilities and experiences of adult life. Pupils are encouraged to live healthy, safe, productive, capable, responsible and balanced lives. Pupils are encouraged to shine by being supported in making effective decisions, positive learning, career choices and in achieving economic wellbeing. Pupils are provided with opportunities to reflect on, clarify their own values and attitudes, and explore the complex and conflicting range of values and attitudes encountered now and in the future. Pupils will also develops inter and intra personal skills allowing them to develop team work and personal skills ensuring they shine.
The Personal Development Curriculum is fully in line with the learning outcomes and core themes provided by the PSHE Association Programme of study which is recommended and referred to by the DfE in all key documentation relating to PSHE Provision in Schools. The curriculum covers all the required objectives and follows the three core areas of:
Health and Wellbeing
Self-Concept
Mental Health and Emotional Wellbeing
Healthy lifestyles/Heath related decisions
Drugs Alcohol and Tobacco
Managing risk and personal safety
Relationships
Positive relationships
Relationship Values
Forming and Maintain meaningful relationships
Contraception and Parenthood
Bullying abuse and discrimination
Social Influences
Living in the Wider World
Learning Skills
Choices and pathways
Employment rights and responsibilities
Financial Choices
Media literacy and digital resilience
We have a team of three staff who each specialise and are experts in specific areas as well as being able to deliver cross over of themes. Zoe Haines Deputy Headteacher – Relationships and Sex Education, Kieran Lynch Assistant Headteacher – Health and Wellbeing and British Values, Dean Robinson Head of Year 9 and 10 – Living in the Wider World. The team ensure their ongoing CPD through utilising the PSHE Associations external courses and liaising with our external support network in including the Careers and Enterprise organisation and our Enterprise Coordinator Rob Harrington from HSBC. The curriculum fulfils the requirements of the 2020 Statutory Relations and Health education.
As part of the King Edward VI Balaam Wood Academy Personal Development curriculum pupils will:
Be given opportunities to develop to be responsible, respectful and active citizens who are able to play their part and become actively involved in public life as adults
Develop and deepen their understanding of the fundamental British values of democracy, individual liberty, the rule of law and mutual respect and tolerance
Develop skills so that all pupils can thrive together, understand that difference is a positive, not a negative, and that individual characteristics make people unique
Develop pupils' character, which we define as a set of positive personal traits, dispositions and virtues that informs their motivation and guides their conduct so that they reflect wisely, learn eagerly, developing pupils' confidence, resilience and knowledge so that they can keep themselves mentally healthy. This is supported through King Edward VI Balaam Wood Academy attitudes to learning where routines develop habits of learning. In addition, through leadership opportunities across school and the achievement of House points.
Recognise online and offline risks to their well-being – for example, risks from criminal and sexual exploitation, domestic abuse, female genital mutilation, forced marriage, substance misuse, gang activity, sexual harassment, sexual violence, peer on peer abuse, radicalisation and extremism – and making them aware of how to keep themselves safe and the support available to them
To recognise the dangers of inappropriate use of mobile technology and social media developing pupils' understanding of how to keep physically healthy, eat healthily and maintain an active lifestyle, including giving ample opportunities to be active during the school day and through extra-curricular activities
To develop age-appropriate understanding of healthy relationships through appropriate relationship and sex education
To understand what they need to do to reach and succeed in the careers to which they aspire, supporting readiness for the next phase of education, training or employment so that they are equipped to make the transition successfully
Be given opportunities to work independently, collaboratively, creatively, reflectively developing debating and social and communication skills
Be taught using a range of teaching strategies and to tailor to the needs of different groups of pupils
Make cross-curricular and real-life links to topics when possible and appropriate
A range of enrichment opportunities for personal development, cultural capital, raise aspirations and enable meaningful encounters with employers and further education providers
Will develop pupils' literacy development through regular reading opportunities and highlighting of key words and new vocabulary as well as speaking and listening opportunities through debate.
Secure development and achievement in Personal Development
● provides opportunities for pupils' personal development in, independence, self-reflection, understanding of the wider world, prepares them for an ambitious, successful life after Balaam Wood and how to keep themselves safe on and off line.
● allows pupils to be bold and achieve their personal best and beyond and enables pupils to develop a natural sense of wonder and curiosity about the world around them
Prepare pupils for "Life beyond Balaam" …
● challenges, motivates, inspires and leads to a lifelong interest in learning; and focuses pupils on their post 16 pathways
● prepares pupils for further education; whether academic or vocational and for the world of work.
Promote active community involvement, kindness and collaboration …
● ensures pupils are fully prepared for life in their own community and today's society and develops their critical abilities and understanding and creates an atmosphere of respect and resilience where its ok to learn from their mistakes and experiments.
● developing confident individuals who are able to live safe, healthy and fulfilling lives and able to appreciate their own and others cultural heritage through studying British Values
● offers a wide range of quality extra-curricular opportunities for personal development to raise aspirations
King Edward VI Balaam Wood Academy curriculum principles
At King Edward VI Balaam Wood Academy, it is our intention that our personal development curriculum develop resilience, confidence, self-esteem, ambition and a thirst for learning amongst our pupils and adheres to the whole school curriculum principles and is tailored to the individual needs of pupils
Curriculum Implementation; Through Teaching, Learning and Assessment
The Personal Development discrete lessons are designed to be taught in thematic units, Living in the Wider world, Health and Wellbeing and Relationships and Sex Education. Which include opportunities for class discussion, debate and reflection.
The Personal Development also promotes the spiritual, moral, cultural, mental and physical development of our pupils thus preparing them for life in the wider world. Pupils are taught and provided with opportunities:
To develop the knowledge, understanding and skills they need to manage their lives now and in the future.
To explore, clarify and if necessary, challenge, their own and others' values, attitudes, beliefs, rights and responsibilities.
To develop skills, language and strategies they need in order to live healthy, safe, fulfilling, responsible and balanced lives.
To develop positive personal attributes such as resilience, self-confidence, self-esteem, and empathy.
These units are taught in a spiral curriculum that revisits each theme each year. This enable pupils to build on previous learning, exploring underlying principles regularly at a depth that is age appropriate. Lessons also highlight key words, building a rich vocabulary to develop understanding and sign post pupils where to go for additional support, information and help.
Assessment for learning opportunities are built into each lesson and enhance the learning journey. Each lesson starts with a Do It Now quiz activity that measures children's exiting knowledge and experience providing an opportunity for baseline assessment. Each lesson ends with a Review it Now opportunity to consolidate and reflect upon learning. Homework is set via Microsoft Forms to assess pupils understanding, recall and allows analysis to address any misconceptions.
Personal Development is also implemented through Assemblies, form time sessions and enrichment. These are taught through the themes of:
British Values
King Edward VI Balaam Wood Academy Values
Religious Festivals/Faith Days
Charity Events
CEIAG
Historical Events
SMSC and Wellbeing
Through Transition
To be able to quickly identify any pupils who my need additional support, all pupils in year 7 complete the PASS Survey, Pupils Attitude to School and Self. This is also combined with an activity called "Letter to Self". The PASS surveys enable the school to quickly identify pupils who may have low self-esteem, lack of confidence in their ability or not value school. The "Letter to self" is a way to identify any ACE's (Adverse childhood experiences) the child may have or be experiencing. These two documents then enable support and targeted intervention to be put in for those children
Through Enrichment
It is essential that pupils experience opportunities outside of the classroom, to raise aspirations and to develop cultural capital. We have comprehensive programme of after school enrichment activities.
We also have a calendar of events across the key stages that includes;
Trips and visit so colleges, universities, work place
Event days in school such as; speed networking, careers clinic,
Enterprise activities
Theatre in Education performances
Live stream plays
We have also introduced a House System to:
Develop our pupils' sense of loyalty and allegiance to their house
Increase community cohesion
Provide increased opportunities for competition, both within year groups and collectively across whole school houses
Incentivise our pupils to work hard and think hard in their lessons and in their independent studies
Nurture an increased sense of respect and responsibility for the value of teamwork
Promote pupil leadership during house competitions
Develop leadership skills for pupils who work as House representatives and House Captains
Develop pupils personal and social skills
Teach the value of hard work and application
There are four houses, all named after famous Birmingham role models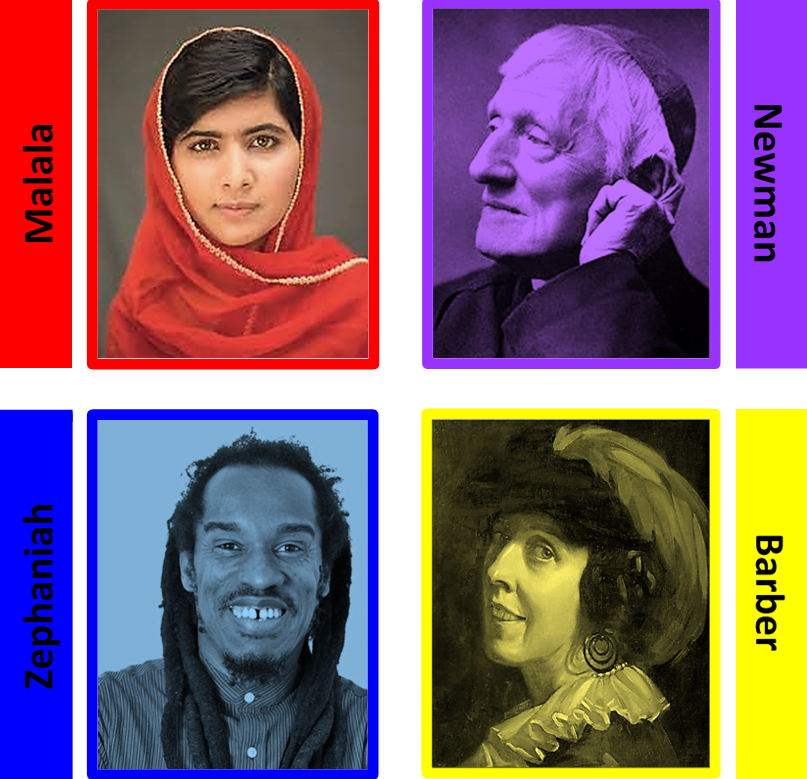 Wellbeing Wednesday
Through Well Being Wednesday in KS3 we run a 4-week cycle of emergency first aid where pupils learn the basic principles, including practical workshops what to do in a first aid emergency
basic first aid for common injuries
how children and young people can stay safe
behaving with kindness
coping skills in challenging situations
what might prevent people from stepping in to help and how to overcome barriers to action.
We also run a cycle of discrete lessons for year 10 and 11 where we deliver the PSHE core themes of Healthy Lifestyles, Relationships and living in the wider world which incorporates CIAEG.
Spiritual, Moral, Social & Cultural Development:
PSHE education gives children specific opportunities to explore the range of attitudes and values in society, and to consider the kind of society they want to live in. Through exploration and discussion of topical political, spiritual, moral, social and cultural issues they develop skills and attitudes that promote:
Empathy and a willingness to perceive and understand the interests, beliefs and viewpoints of others.
A willingness and ability to apply reasoning skills to problems and to value a respect for truth and evidence in forming or holding opinions.
A willingness and ability to participate in decision-making, to value freedom, to choose between alternatives and to value fairness as a basis for making and judging decisions.
These attributes also contribute to our understanding of British Values.
Curriculum Impact
The curriculum is successfully implemented to ensure pupils' progression in knowledge – pupils successfully 'learn the curriculum'
The impact of the school's Personal Development Curriculum is measured through several means:
Pupils demonstrate and apply the British, Values of Democracy, Tolerance, Mutual respect, Rule of law and Liberty.
Pupils demonstrate being bold being ambitious collaborative and being kind within the school community outside community
Assessment quizzes
Attendance data
Behaviour logs and Attitudes to learning data for the subject
Engagement in enrichment activities
Pupil, parent and teacher voice
Progress towards the Gatsby benchmarks
Faculty reviews and Deep Dives
Book reviews
External reviews and feedback
Assemblies of celebration
Leadership responsibilities; school council, house captains, Head Pupils
Charity fundraising events
Pupil destination data