Enterprise Advisers are professionals from any industry, who volunteer to work directly with a school or college to develop a strong careers programme and help create opportunities for young people as well a working with the Senior Leadership team on strategic engagement, they bring a business lens, as a "critical friend", and support plans for bridging the gap between the world of work and education.
Rob Harrington has been working with King Edward VI Balaam Wood Academy since the summer term 2021. Rob has been involved in our Year 10 virtual work experience week and mock interview day and this academic year will be working with a variety of year groups on a range of activities to create opportunities for our pupils within the world of work.
Rob Harrington King Edward VI Balaam Wood Academy Enterprise Advisor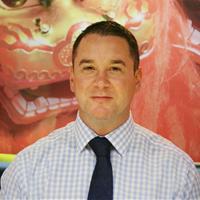 I have worked for HSBC since 1987, and I am currently responsible for HSBC's cash management consultancy business in the Midlands. Managing a team of 20 consultants who work with a diverse and exciting client base across all aspects of their domestic and international transactional banking requirements, identifying and consulting on innovative payments and cash management solutions for projects that enable the delivery of optimum solutions to enhance liquidity, reduce operational risk and increase automation and efficiencies.
Previous experience includes over 8 years of Relationship Management encompassing new business generation, deepening existing global relationships and credit related experience.